Please follow and like us:
Description:
Product features:
——Three speed intelligent speed regulation to meet your different needs;
——Perfect compatible with all kinds of fan lights;
——The model can pass through the wall, even if the distance is far, the effect can be guaranteed;
——Can set sleep time, let you sleep at ease;
——The product has designed the cooling hole to extend the service life;
——Each remote control is independent and will not interfere with other devices;
——Simple operation, easy replacement with the original remote control;
——Small and portable.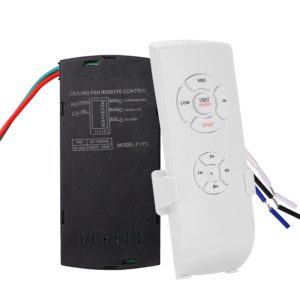 NOTE:
1. Power on and light up by default;
2. Wall fans and desk fans are not applicable;
3. Fan with negative ion and frequency conversion function is not applicable;
4. If you have any use questions, please consult us;
5. This product does not contain batteries.
Specifications:
Product size:14*12.5*3.5CM
Product weight:169g
Load power: fan ≤ 200W
Rated voltage: 85 ~ 265V
Battery model: 23a
Material: PC
Specifications:
-Material safety and reliability
-Easy to install
-Remote control distance
-Intelligent timing
-Three level regulation
Package Included:
1X smart remote control for FAN and Light Control