Please follow and like us:
USB to TTL / USB-TTL /STC microcontroller programmer / PL2303 in nine upgrades plate with a transparent cover Compatible with ARDUINO, RASPBERRY PI, AVR, PIC, 8051, etc.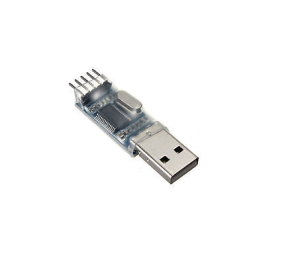 Product Description
The USB to RS232 module based TTL provides the best and convenient way to connect your RS232 TTL Devices or demo board to your PC via the USB port.
Supports the following Windows OSes:
Windows 98SE
Windows ME
Windows 2000 SP4
Windows XP SP2 and above (32 & 64 bit)
Windows Server 2003 (32 & 64 bit)
Windows Server 2008 / 2008 R2 (32 & 64 bit)
Windows Vista (32 & 64 bit)
Windows 7 (32 & 64 bit)
NOTE: For Windows 7, please use RC build 7100 or above.
Adopt imported controller PL2303HX,which can stabilize the flash with high speed
500mA self recovery fuse for protection
Two data transmission indicator can monitor data transfer status in real time
Reserve 3.3V and 5V pin interface, easy for the DDWRT of different voltage system that need power
The entire board is coated by high quality transparent heat-shrinkable sleeve, making the PCB in insulation state from outside, so that the board won't burnt down by material short cut
Electrostatic package, insures the board will not be damaged before use
Drivers Download
http://www.prolific.com.tw/US/ShowProduct.aspx?p_id=225&pcid=41
Warning Notice:
Please be warned that counterfeit (fake) PL-2303HX (Chip Rev A) USB to Serial Controller ICs using Prolific's trademark logo, brand name, and device drivers, were being sold in the China market.