Please follow and like us:
MT3608 2A Max DC-DC Step Up Power Module Booster Power Module For Arduino
The module features (booster module) :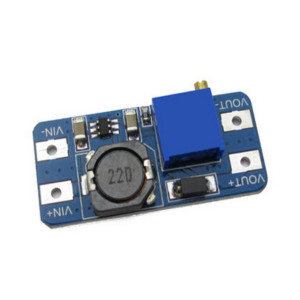 the maximum output current: 2 a
input voltage: 2 v ~ 24 v
the maximum output voltage: > 5 v – 28 v
Efficiency: > 93%
Mechanical properties:
Product size: 36 mm * 17 mm * 14 mm
The method of use
Connect the the IN+ and IN- of the module with 2~24v
Adjust the potentiometer to adjust the output voltage. Please be noted that the output voltage should be higher than the input voltage.
Note:
1).The input voltage should not exceed the maximum input voltage
2).Peak current output current is not more than 2A for input & output.