Please follow and like us:
This sensor module utilizes an MQ-6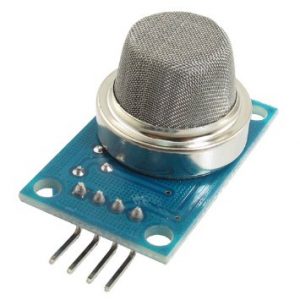 as the sensitive component and has a protection resistor and an adjustable resistor on board. The MQ-6 gas sensor is highly sensitive to LPG, iso-butane, propane and less sensitive to alcohol, cooking fume and cigarette smoke. It could be used in gas leakage detecting equipments in family and industry. The resistance of the sensitive component changes as the concentration of the target gas changes.
Features
Continuous Analog output
3-pin interlock connector
Low cost and compact size
Specification:
Color: Blue + Silver
Material: PCB board
High quality double panel design, with power and TTL signal output indicator
With DO switch signal (TTL) output and AO analog signal output
TTL output effective signal for low level (when output lower than usually the signal light, can be directly meet SCM or relay module)
Analog output voltage: 0~5V, the higher concentration, the higher voltage
High sensitivity for the propane and butane, LPG, LNG detection
There are four screw holes for positioning
Product size: 32mm (L) x 20mm (W) x 22mm (H)
Long service life and reliable stability, fast response and recovery characteristics
Working voltage: 5V
Suitable for home / industry LPG, propane, butane, LNG detection using
Before use, please heat the board for about 20 seconds