Please follow and like us:
The MPL3115A2 is a MEMS pressure sensor that provides Altitude data to within 30cm (with oversampling enabled). The sensor outputs are digitized by a high resolution 24-bit ADC and transmitted over I2C, meaning it's easy to interface with most controllers. Pressure output can be resolved with output in fractions of a Pascal, and Altitude can be resolved in fractions of a meter. The device also provides 12-bit temperature measurements in degrees Celsius.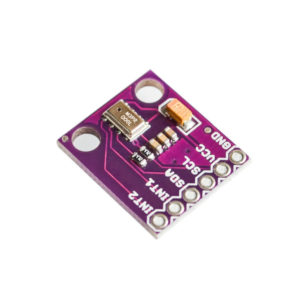 This breakout board makes it easy to prototype using this tiny device by breaking out the necessary pins to a standard 0.1″ spaced header. The board also has all of the passive components needed to get the device functioning, so you can simply connect it to something that talks I2C and get to work!
Specification:
1.95V to 3.6V Supply Voltage, internally regulated by LDO
1.6V to 3.6V Digital Interface Supply Voltage
Fully Compensated internally
Direct Reading, Compensated

Pressure: 20-bit measurement (Pascals)
Altitude: 20-bit measurement (meters)
Temperature: 12-bit measurement (degrees Celsius)

Programmable Events
Autonomous Data Acquisition
Resolution down to 1 ft. / 30 cm
32 Sample FIFO
Ability to log data up to 12 days using the FIFO
1 second to 9 hour data acquisition rate
I2C digital output interface (operates up to 400 kHz)
Uses the I2C interface
Only one sensor can reside on the I2C bus
Uses the I2C repeated start condition. Arduino supports this, check if you're using a different microcontroller.
Typical pressure accuracy of ±0.05kPa
Typical altitude accuracy of ±0.3m
Typical temperature accuracy of ±3C
3.3V sensor - use inline logic level converters or 330 ohm resistors to limit 5V signals
Here's the datasheet
Here's the schematic for the breakout board
This sensor is ideal for environmental sensing, a weather station, or datalogging. It is a worthy replacement for the BMP085 and is more sensitive than the MPL115A1.
Hookup Table
With respect to the logic level converter, the pin connections starting from LV1 are listed in the table below.
| MPL3115A2 | Logic Level Converter (Low Side) | Logic Level Converter (High Side) | 5V Arduino w/ Atmega328P |
| --- | --- | --- | --- |
| SCL | LV1 | HV1 | SCL (or A5) |
| SDA | LV2 | HV2 | SDA(or A4) |
| VCC | LV | | 3.3V |
| | | HV | 5V |
| GND | GND | GND | GND |