Please follow and like us:
Mini RS232 MAX3232 turn TTL level conversion board serial conversion module
The Mini RS232 MAX3232 Level Turn to TTL Level Converter Board / Serial Port Converter Board has one purpose in daily life – to convert RS232 to TTL and vice versa (TX RX RTS and CTS). This will allow a microcontroller to communicate with a computer. This board is powered from the target application and can run at 3V to 5V! That's right – power the board at 5V and the unit will convert RS232 to 5V TTL. Power the board at 3V and the board will convert RS232 to 3V CMOS TTL. It includes two indicator LEDs for TX and RX. Moreover, it runs from 300bps up to 120Kbps.
FEATURES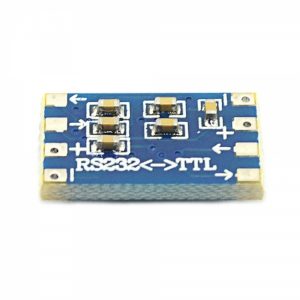 This is a high-performance MAX232 RS232 to TTL 5V converter board
Easily convert RS232 serial communications signal to TTL output to and from a computer RS232 serial COM port
Compatible with any micro controller, such as PIC, Atmel or other system with TTL serial communications
Perfect for any RS232 to TTL electronic projects
It is not recommended to be powered higher than 120Kbps
Specifications
| | |
| --- | --- |
| Model | 03100482 |
| Quantity | 1 pcs |
| Color | Blue & Black |
| Material | PCB |
| Voltage Range | 3~5V |
| Highest Baud Rate | <120Kbps |
| Dimensions | (0.63 x 0.35 x 0.16)" / (1.6 x 0.9 x 0.4)cm (L x W x H) |
| Weight | 0.07 oz / 2.0 g |