Please follow and like us: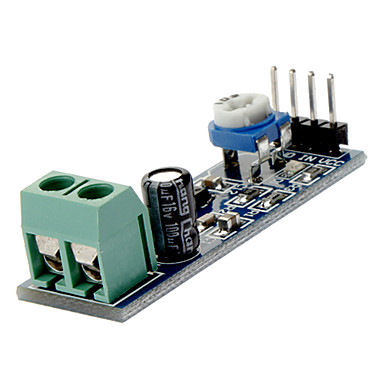 LM386 Audio Amplifier Module 200 Times 5V-12V Input 10K Adjustable Resistance
Based on the popular LM386-1 audio amplifier, this tiny PCB module can provide up to 300mW of audio power.  Easily configured for either 20 (26dB) or 200 (46dB) gain.
GND is negative, OUN is level
onboard the LM386 chip
200 times gain circuit design
Onboard speaker terminal block
Onboard 10K adjustable resistance, you can adjust the zoom level
Onboard power led Main PIN
Chip has raises, you can directly input audio signal
Working voltage: 5~12V
Board size 41 (mm) x 13 (mm)
FAQs
Q: How do I reduce the amplifier gain?
A: Pins 1 & 8 of the LM386 amplifier chip are used to set the amplifier gain. If they are left open (unconnected), the gain is set by an internal resistor to 20 (26 dB). If a 10 uF capacitor is connected between pins 1 & 8 the internal resistor is bypassed, and gain is set to 200 (46 dB). An external resistor can be used to set the gain anywhere in between.
This module has a capacitor and a zero Ohm resistor in series between pins 1 & 8, so the gain is set to 200. If you need lower gain (in other words, a less sensitive amplifier) you can un-solder the zero Ohm chip resistor R1, or simply clip it in half wit a small pair of diagonal or flush cutters. Just be careful not to damage the other components on the board.
Specifications
Inputs

GROUND
GROUND
Audio Input
Vcc – 4 to 12 V DC

Outputs
Power requirements

DC 4 to 12 Volts, regulated

Controls & Indicators

Input attenuator: 10K trimmer potentiometer Power: Red SMT chip LED