Please follow and like us:
Key Display For AVR Arduino New 8-Bit Digital LED Tube 8-Bit TM1638 Module
This module for the chip TM1638, set the above three kinds of single chip microcomputer common peripheral circuit, the biggest characteristic is to simply take micro-controller three IO mouth can drive, scanning display and key scan don't need micro-controller intervention, only need to register to display data related to reading and writing or testing buttons, save MCU resources.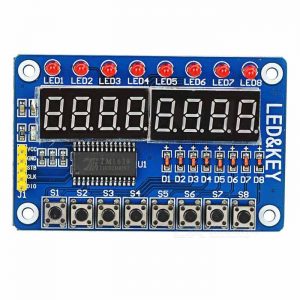 Size: 75mm x 48mm/2.95″ x 1.89″(inch) (approx)
Rated voltage: DC12V
Voltage range: DC7.0 V-13.6 V
The input power: 0.24 A
The rated speed: 9500 R.P.M
Temperature range:-10.. 70 ° C
Txpect life: 25 ° C L10 when expected life 50000 hours
Bearing structure: free maintenance dual ball bearings
Rotation direction: the wind from stents place eduction, facing the rotor counter-clockwise
The wiring way: + red-black signal: blue (blue line, the alarm line speed, it is necessary to pay attention to). Line about 20 cm long
The biggest air volume: 26.8 m? / h
The electric motor protection : overload protection, wrong level protection and stall lock current protection
Minimum wind pressure : 0.. 120 Pa
Noise index : 41.9 dB (A)
Material qualitative material: glass fiber reinforced plastic, PBT shell, PA blades
Function explain : electronic reversing the rotor dc fans, complete electronic directional control components
How to connect:
VCC GND 5V power supply, STB CLK DIO MCU I/O port
Wiring methods :
VCC GND connected 5V supply, STB CLK DIO connected microcontroller IO port.