Please follow and like us:
I2C RTC DS1307 AT24C32 Real Time Clock Module For AVR ARM PIC
This is a great battery-backed real time clock (RTC) that allows your microcontroller project to keep track of time even if it is reprogrammed, or if the power is lost. Perfect for datalogging, cl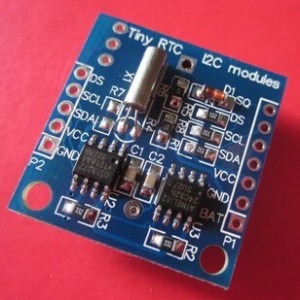 ock-building, time stamping, timers and alarms, etc. The DS1307 is the most popular RTC, and works best with 5V-based chips such as the Arduino.
Features:
Brand new and high quality.
This is the DS1307 Real Time Clock developed by one of our designer.
The module comes fully assembled and pre-programmed.
The DS1307 is accessed via the I2C protocol.
Two wire I2C interface.
Hour:Minutes : Seconds AM/PM.
Day Month, Date – Year.
DS1307 based RTC with LIR2032 battery (Battery include).
1Hz output pin.
56 Bytes of Non-volatile memory available to user.
Item size: 28*26*8mm
Net weight: 7g
Note: The DS1307 is simple and inexpensive but not a high precision device. It may lose or gain up to 2 seconds or more a day. For a high-precision, temperature compensated alternative.