Please follow and like us:
CP2102 USB to TTL USB UART serial port module brushing machine upgrade Board STC with download cable – USB to Serial TTL CP2102 adapter
Provides connection from USB on host computer to microcomputers or other TTL signal level accessories. The CP2102 Virtual COM Port (VCP) device drivers allow a CP2102-based device to appear to the PC's application software as a COM port. Application software running on the PC accesses the CP2102-based device as it would access a standard hardware COM port.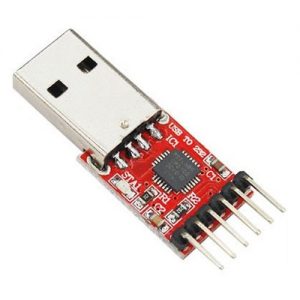 Product description:
the main chip CP2102, generate virtual serial port after installing the driver, Taking power, USB and elicit interface includes 3.3 V (< 40 ma), 5 V, GND, TX and RX, signal feet is 3.3 V, is logical
Send and receive, onboard status indicator lights, lights, right after install the driver state will Chang Liang lights, transceiver indicator light will flash when communication, the lower the baud rate, the higher brightness
Support from 300 BPS baud rate between ~ 1 MBPS
Communication format support:
5,6,7,8 bits of data;
support 1,1.5, 2 stop bits.
odd, even, mark, space, none
support operating system: Windows vista/xp/server 2003/2000, Mac OS X/OS ,Linux
The USB head for head, can be directly connected to computer USB port
SMD components for SMT process, the quality stable
Features:
Implements full v2.0 USB protocol
Needs no external crystal
Internal EEPROM for device ID and Product Description strings
+3.3V 100ma output
5 volt tolerant inputs
Drivers for Windows, MAC, Linux Available HERE (Click)
USB Specification 2.0 compliant; full-speed (12 Mbps)
All handshaking and modem interface signals
 Use this device to connect your PC to a serial (TTL level) device.
Uses CP2102 chipset and has a standard 0.1″ pitch terminal strip to connect directly to UART or I/O pins for easy access to your MCU
USB specification 2.0 compliant with full-speed 12Mbps.
Standard USB type A male and TTL 6pin connector.
6 pins for 3.3V, RST, TXD, RXD, GND & 5V.
Baud rates: 300 bps to 1.5 Mbps.
Byte receive buffer; 640 byte transmit buffer.
Hardware or X-On/X-Off handshaking supported.
Supports Windows 98SE, 2000, XP, Vista, Window7, Mac OS 9, Mac OS X & Linux 2.40.
Size: 42mm X 15mm (approx) .
Weight: 4g (approx).
The USB side must be connected to PC or Mac. Other USB devices like a digital camera, scanner and printer is not allowed.
Package Includes :
1 x USB to TTL Converter.
1 x Standard 4 pin 0.1″ pitch female to female cable.