Please follow and like us:
5V 10A 2 Channel Relay Module Shield for Arduino ARM PIC AVR DSP Electronic relay
the item is a 24v 2-channel relay interface board,It can be controlled directly by a wide range of microcontrollers such as Arduino, AVR, PIC, ARM and so on.
If you have ever had a project that required an interface with a high power device that needed AC or DC voltage and high current levels you have probably already discovered that attempting to control those devices directly with your Arduino, Raspberry PI, or other Microcontroller/Microprocessor can be a real challenge. This board is designed to interface easily with your 5V IO's without consuming much current on your IO pins.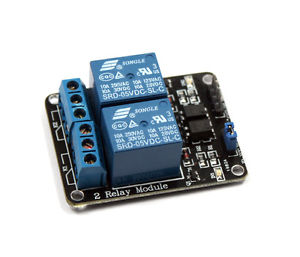 Relay contact capacity 250V10A.
relay output normally open, normally closed;
Low level valid. 5V relay signal input voltage range: 0-5V;
VCC power to the system. JD-VCC relay in the power supply. The default 5V relay. JD-VCC and VCC can be a shorted
Module parameters:
size: 50.6mm (l) *38.8mm (w) *19.3mm (h)
weight: 30g
PCB color: black
around the Board with 4 mounting holes, hole diameter 3.1mm, easy installation and fixing
relay high quality songle relay single pole double throw. A common end, a beginning, a closed-end
optical coupling isolation, good anti-interference
low suction, high level release. Timely status light is on, release the status light is off
VCC for the power to the system JD_VCC for the relay power. The default 5V relays, plug in the jumper caps
relay output: DC 30V/10A Exchange 250V/10A
Ring instructions:
VCC: System power cathode
GND: System power cathode
IN1–IN2: relay control port