Please follow and like us:
4-channel relay control board module with optocoupler, 4 way relay module for arduino
4-channel relay output modules, relay output contacts 250A 10A. Input IN1, IN2, IN3, IN4, the signal line LOW effective. VCC, GND power input, can relay a separate power supply relay power input of JD-VCC.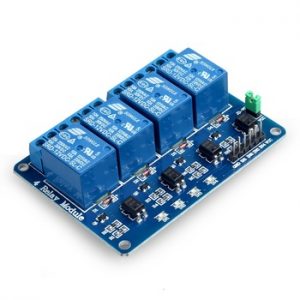 Uses:
support all MCU control.
the industrial sector
PLC control
smart home control
Module parameters:
Size: 75mm (length) x 55mm (W) x 19.3mm (height);
Weight: 58g;
PCB Color: Blue;
board four weeks with four screw holes, hole diameter 3.1mm, easy to install and fixed;
Relay selection of quality loose music relays, SPDT. A common terminal, a normally open, one normally closed terminal;
optocoupler isolation, good anti-jamming;
Low pull, high release. Energisation status indicator light, release status LED is off;
VCC for the system power, JD_VCC for the relay power. Default hair 5V relay, plug the jumper cap to;
Relay Maximum output: DC 30V/10A, AC 250V/10A
Wiring: VCC: positive power supply system GND: System power supply negative IN1 – IN4: relay control ports