Please follow and like us:
White 128X64 OLED LCD LED Display Module white For Arduino 0.96″ I2C IIC SPI Serial, Color : White
0.96 Inch I2C IIC Serial 128 x 64 OLED White LCD LED Display Module For Arduino
Specification: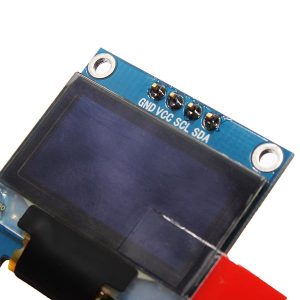 No backlight, the display unit can be self-luminous
High resolution: 128 x 64
Viewing angle: >160°
Supports many control chip: fully compatible with Arduino, 51 series, MSP430 series, STM32 / 2, CSR chip, etc.
Ultra-low power consumption: full screen lit 0.08W, 0.06W normal full-screen display of Chinese characters
Wide voltage support: without any modification, directly supports 3V ~ 5V DC
Working temperature: -30°C ~ 70°C
Module volume ( generous ): 27.0 x 27.0 x 4.1mm
Minimum occupancy on Earth IO port display: The IIC/I2C communication, as long as the two IO ports will be able to drive!
Driver IC: SSD1306
No font: take the word with modulo software
Note:
If you decide to buy OLED display, you must confirm that you can make it work by yourself, we'll haven't any technology support. Thanks for your understanding and support.
What is OLED?
OLED (Organic Light-Emitting Diode) is a self light-emitting technology composed of a thin, multi-layered organic film placed between an anode and cathode. In contrast to LCD technology, OLED does not require a backlight. OLED possesses high application potential for virtually all types of displays and is regarded as the ultimate technology for the next generation of flat-panel displays.
How Does OLED Emit Light?
OLEDs basic structure consists of organic materials positioned between the cathode and the anode, which is composed of electric conductive transparent Indium Tin Oxide (ITO). The organic materials compose a multi-layered thin film, which includes the Hole Transporting Layer (HTL), Emission Layer (EML) and the Electron Transporting Layer (ETL). By applying the appropriate electric voltage, holes and electrons are injected into the EML from the anode and the cathode, respectively. The holes and electrons combine inside the EML to form excitons, after which electroluminescence occurs. The transfer material, emission layer material and choice of electrode are the key factors that determine the quality of OLED components.