Please follow and like us:
WEB-U2 Current And Voltage Meter USB Tester QC4+ PD3.0 2.0 PPS Fast Charging Protocol Capacity Test
WEB-U2, upgrade to 4 buttons(PD Switch, Next button, Back button, Mode button) Features:
Uses high-definition 1.77″ HD color digital screen.
5-digit and 6-bit one button switching, support for external HID power supply.
Surppots online ugrade and adopts QC4+ PD3.0 2 PPS quick charging protocol.
WEB-U2 USB input port adopts patented high current 5P USB-A type male input can withstand more than 5A high current input.
When using high current and high power operation, you can use TYPE-C female to output.
Notice: The MicroUSB female input port also does not support high current and high power, and its input current cannot exceed 2.5A.
Specification: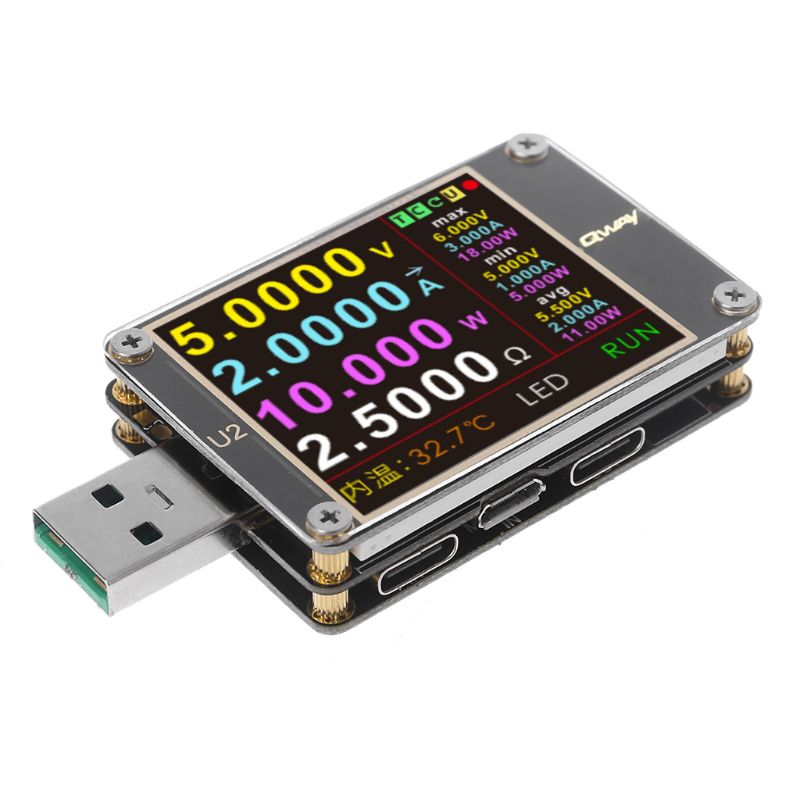 Input voltage: DC 4~24V
Input current: ±5A
Voltage resolution: 0.00001V
Current resolution: 0.00001A
Capacity record: 0~99999Ah 0~99999Wh
Internal NTC temperature sensor: -20°C~+120°C
External NTC temperature sensor: -20°C~+120°C
Storage media: Ferroelectric FARM memory 10 billion brush life
Firmware upgrade method: HID drive-free upgrade
Computer connection mode: HID host computer
Material: Metal & plastic
Package size: 91x64x19mm/3.58×2.52×0.75inch
Color: Black
Quantity: 1 Pc
Note:
1.Please allow 0-1cm error due to manual measurement. pls make sure you do not mind before you bid.
2.Due to the difference between different monitors, the picture may not reflect the actual color of the item. Thank you!
Package includes: 1 x U2 USB Color Display Tester ——————— Other Feature Functions: 1. For Apple PD Charger SN Serial Number Detection 2. 5-digit and 6-bit one-button switching, support for external HID power supply 3. Automatic detection of multiple quick charge protocols 4. Charging treasure gadget,Automatic calculation of efficiency 5. Chinese/English/Traditional Chinese Three Language Menu 6. For OPPO virtual fast charge data line function,VOOC DASH can support fast charge and detect voltage and current without original data cable 7. You can also judge whether it is a standard OPPO or an accelerated charging charger without using a data cable. 8. 5P high current patented custom USB-A plug,Line-free plug-in to help determine whether the standard OPPO, a charger 9. For MACBOOK real machine protocol capture 10. PD-E cable detection 11. PD3.0 PPS QC4+ detection trigger 12. PD sniffing monitoring, packet capture mode 13. Support Huawei FCP SCP broadcast dynamic adjustment,For HUAWEI magic SCP charger nameplate is 8A, broadcast 9A, measured 8.XA protection 14. MFI Cable high voltage protection and quiescent current detection, Need QC3.0 power supply 15. Apple device charging acceleration 16. 1.2V low voltage nickel hydrogen battery detection, HID Power supply, Low voltage measuring , USB HID external independent power supply can be started at 0V and can measure low voltage equipment. 17. U2 is connected to the power supply and constant current load. The current is adjusted to about 1A. Press OK to record the reference value.The cable to be tested is transmitted between the power supply and U2, and the internal resistance of the wire can be tested by the voltage drop. 19. Real-time curve, you can press the pause screenshot / short press to resume immediately, Offline curve can record external device or battery status and temperature, Curves can be exported and saved by the upper machine software
Specifications:
Type:
WEB-U2 Current Voltage Meter
Voltage:
DC 4~24V
Master chip:
STM32F072 ARM Kernel
Current:
0-5A
Display:
1.77inch TFT screen
128 * 160 Resolution
Voltage Resolution:
0.0001V
Size:
52.5 * 34.5 * 13mm(Prox.)
Current accuracy:
Range 0.1%±nd
USB interface:
USB2.0 5P male
USB2.0A female
Ampere hourcapacity:
99999Ah(6 groups)
MicroUSB:
PC Input ,PC USB H ID
Ampere hourresolution:
0.0001Ah
TYPE-C:
2PC IN and OUT
Ampere-hour capacity:
99999Wh(6 groups)
Button:
OK and M key
Watt time resolution:
0.0001Wh
Temperature Sensor:
one temperature sensor
inside the tester, it can
be connect to a external
temperature sensor(optional)
Power on time:
100 hours
Temperature
Measurement:
-40 C~180 C
Charging time:
100 hours
D+D-Voltage:
Support measurement
Built-in load:
built-in current to
small load MTK
Fast charge protocol:
Support detection trigger
Bluetooth module:
Bluetooth 4.0
wireless module
(Optional)
FD trigger:
PD2.0 PD3.0 PPS QC4+E-Marker
Firmware upgrade:
USB HI D free drive
Memory:
FRAM ferroelectric
(10 billion brush write life)
PC host computer:
USB HI D free drive
Static power
consumption:
Turn off the screen,
close the data port < 10mA
Force sensor:
Built-in 3-axis gravity sensor
Internal resistance:
connected to the
USB interface 35m ohm(Prox.)
Serial number:
Built-in independent SN body
identification serial number