Please follow and like us:
TEC1-12710 120W 10A Thermoelectric cooler peltier 40*40*3.6MM TEC1 12710 Electronic Semiconductor Refrigeration Sheet Cooling Equipment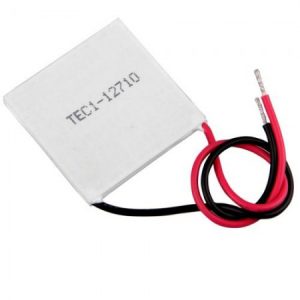 A semiconductor cooling device as a special source of cold, the technology has the following advantages and characteristics: does not require any refrigerant, can work, there is no source of pollution there is no rotating parts, will not produce rotation effect, there is no sliding parts is a The devices of the kinds of solid work without vibration, noise, long life, easy to install. Semiconductor cooling device has two functions, not only cooling but also heating and cooling efficiency is generally not high, but the induced thermal efficiency is high, always greater than 1. Therefore, a device can replace the discrete heating and cooling system.
Type

Max Current

Max Voltage

Max Power

Cooling Capacity




     (△T=0W )

Temperature Difference


      (△

TmaxQC=0C )

Dimensions

TEC1-12710
10A
15.4V
120W
76.3
67
40*40*3.6
Note:
Please make sure to use this product with a heat sink kit, or it will be burned.