Please follow and like us:
Dual USB 18650 Battery Charger PCB Power Module 5V 1A 2.1A Mobile Power Bank Accessories For Phone DIY LED LCD Module Board
Product Description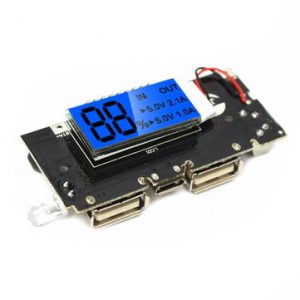 The circuit board is connected to the battery negative B-, B + is the positive, do not connect reversed, connecting reversed will burn the board, the battery is connected in parallel welding, assembling battery. Note that the insulation between the battery and the circuit board, battery lead not to touch the circuit board, so as not to cause a short circuit.
Motherboard comes with protection function: Charging overcharge protection, over-discharge protection, overcurrent protection. Intelligent output device after charging full, automatically stop charging, to prevent mobile phones overcharge. Output voltage and current stable, will not harm user devices.
Micro USB input: 5V 1A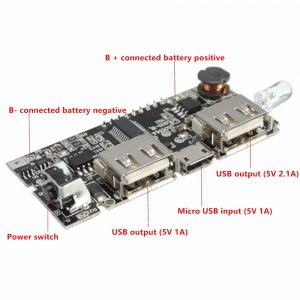 USB Output: 5V 2.1A / 5V 1A(Dual USB interface)
Charging display: intelligent digital display
Batteries Type: liquid lithium-ion batteries (18650)
Product Size: 57mm x 28mm
Screen size:27mm x 17mm
1PCS Dual USB 5V 1A 2.1A Mobile Power Bank 18650 Battery Charger PCB Power Module