Please follow and like us:
AIR200 development board GPRS GSM Kit Wireless Extension Module Board Antenna Tested Worldwide Store for SIM900A A6 GSM
Air200 module overview:
Air200 is a GSM/GPRS wireless module which supports 4 frequency (900/1800MHz + 850/1900MHz) and complete AT instruction interface, and provides wireless data transmission service service for related wireless access applications.
Air200 can be widely used in a variety of Internet of things occasions.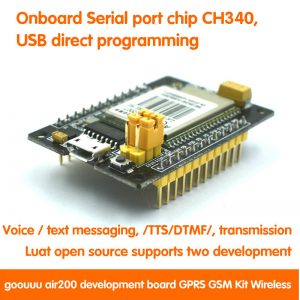 amr
Home automation
GPS positioning system
Industrial wireless control
Remote monitoring / measurement and control system
Web camera
Sensor networks
Security Products
Base station location system
Intelligent Transportation
Mobile POS
SMS cat
Wireless MODEM card
Wireless fixed line / merchant voice
Product characteristics:
Compact size (19.5, x, 25.5, x, 2.6mm)
Patch type module, stamp hole welding method
Support for 4 bands
GPRS Multi-slot Class 12
Built in TCP/IP protocol stack
AT commands supporting Socket
Support voice call function, FR, EFR, HR, AMR and other voice encoding
Support UART (including Debug-UART port)
Support GPIO, I2C interface
Support SMS (TEXT/PDU two modes)
Support the full set of AT commands (GSM07.05, GSM07.07, and other AT commands)
Goouuu-Luat development board
The onboard Air200 module, the default software version of the Air200 module, is Air200-T, which is the default software version is AT firmware. If you need Luat development, you need to brush the firmware of the module into a Luat version.